Once you've committed to that first decision to buy a fibreglass pool, the overwhelm has only just begun. You'll soon realise there are so many different pool design options out there – which style is best for your backyard and your needs?
When thinking about adding a rectangular, fiberglass pool to your outdoor space there are many factors to consider. Whether your backyard is big or small, a few key elements will help you choose the right design for your space and your family's needs.
5 Major Components of Designing a Rectangular Pool
Know Your Depth
There's no perfect depth guideline to follow when designing your new pool. In fact, pool depth should be tailored to your specific needs. Will you be practising your diving technique? Or will the new pool be a centre of family fun, a place to bathe and unwind? While deeper pools work for the athlete, we recommend a more shallow depth if you want a play pool for the whole family.
Choose the Right Length
As with pool depth, your pool's length depends on how you plan to use your urban oasis. If your intention is general exercise or swimming laps, you'll probably want something a bit longer. Typically, 10 metres will do well for swimming laps and keeping up with your fitness routine.
If you don't have the space for something that large it's a good idea to consider a clean, unobstructed bottom for your pool. This will still allow room for you to do aerobics and other fitness routines without feeling cramped or causing your limbs to brush up on the bottom of the pool.
Leave Room for Play
Often rectangular and freeform pools end up being cluttered with pool accessories like benches, steps and ladders. But the ideal rectangular pool should also have space to play and move around.
It isn't just the kids who want to have a splash or a game of chase in the pool. When designing your perfect rectangular pool remember to leave some extra room to move around, even if that means sacrificing the additional bench or steps.
Plan for Pool Accessories
Will the kids need a place to store their floaters and other pool toys? Is adding a few benches or lounge chairs important to you?
It's important to not only think about length and depth when designing your new pool but about how you plan to use the overall space as well. No one wants to install their new pool only to find out a few weeks later that there's not enough seating for everyone to enjoy a day in the sun.
Depending on the size of your backyard, you may or may not be able to add lots of pool accessories. Modify the overall length of your pool to accommodate your pool accessory must-haves like lounge chairs, fire pits, slides, and more.
Keep It Covered
Choosing your automatic pool cover and safety covers is a job in and of itself. But making sure your automatic pool cover will fit snuggly around the pool corners is a job you can handle in the design stage.
Not all rectangular pool corners are created equal. In fact, some are much more rounded than others. If you want your pool cover to fit properly and give your pool the most protection, the less rounded the corners, the better.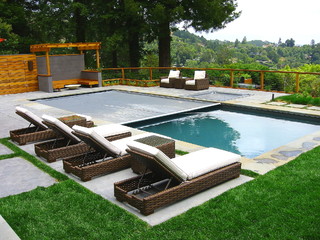 Enjoy Your New Pool
During the design process it's important to remember that a new pool is first and foremost about having fun. Pay attention to your needs and the wants of your family, while also keeping the limitations of your outdoor space in mind.
Have fun with the design process and get the whole family in on the planning. You may just be surprised to find you have a few design prodigies in your midst! When everyone gets involved in a project like this, it will only help to make your new rectangular pool the star of your summer fun!
AOL Pool Shop can help you with all your pool needs, from the design stage to installing that brand new people. Visit us at our new location or give us a call for cleaning, repairs, or a free measure and quote!